About Us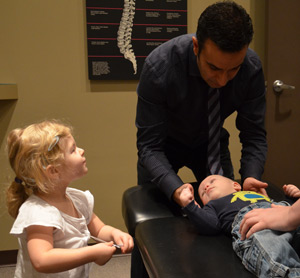 Since 1999, Dr. Canteenwala's practice philosophy has remained unchanged. Canteenwala Chiropractic's top priority is to serve patients by identifying the root cause of their problems. When the "why" is uncovered, information can be absorbed, healthy choices can be made, and the rest begins to fall into place.
It's All About Choice
Are you fearful that your problem cannot be helped? Worried that your condition may be more serious than let on? Dr. Canteenwala is all about informed choices and taking action to prevent further damage.
Tell him what your health goals are, and he will do his best to help you meet
them in a way that fits your lifestyle.
Straight Chiropractic
Dr. Canteenwala offers straight, gentle chiropractic for all conditions and ages. Young or old, small issue or severe problem, functioning optimally or barely getting by – the Canteenwala Chiropractic staff is here to help you. Unlike other practices, Dr. Canteenwala believes the adjusting table, an integrator, and an x-ray unit are all you need to begin to move in the right direction.
The Secret of a Referral Practice
At your first examination, Dr. Canteenwala will share his findings with you and offer further suggestions. Because he believes in helping you make decisions based on your unique priorities and interests, he will explain your information to you as simply and clearly as he can. After that – the choice is yours, and Canteenwala Chiropractic stands by you! This partnership approach is popular, as it stems from authentic respect, listening, and guidance. With Dr. Canteenwala, your individual needs are the main focus. We help you do what is best for YOU!
Get your health back on track today by contacting us for an appointment.

About Canteenwala Chiropractic | Winnipeg, Fort Garry MB